XactCO2: Certified Beverage Grade CO2
The only certified beverage grade CO2 available in the U.S.
Permanent, In-Place, High Pressure Cylinder Fill System
The XactCO2 HP (High-Pressure) Cylinder Fill System delivers a perfect pour every time, meaning consistently great tasting draught beer and fountain soft drinks with zero waste. This system offers a safe, reliable, economical and convenient beverage solution for customers' beverage carbonation needs.
Benefits of XactCO2 HP Cylinder Fill System:
Safe – No longer do your employees need to change out heavy cylinders
Reliable – No business interruptions or waste from serving flat beverages
Economical – No longer do you need to recharge CO2 lines
Convenient – Set it and forget it. NuCO2 installs, fills and maintains the system for you
Great-Tasting Beverages – Get perfect carbonation with ONLY the highest quality, Certified Beverage Grade CO2 available
Regulatory Compliance - At only 100 lbs of storage capacity, our system is compatible with most regulatory codes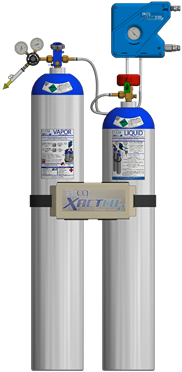 Deliver The Perfect Pint Without Added Carbonation
Now offering multiple generators to match our customer's nitrogen volume needs. The XactN2 15.0 and 4.0 systems are versatile, wall-mounted Nitrogen Generators that create nitrogen from ambient air and store it in a vessel at a minimum purity of 99.7%. Both systems provide the draught beer-grade nitrogen necessary to power a high-pressure draught beer system, delivering the perfect pint without added carbonation.
Benefits of XactN2 Systems:
Space Saving – Mounts directly to any type of wall, requiring no floor space
Convenient – Conveniently makes nitrogen on site
99.7%+Purity – Meets American Brewers Association standards for draught grade nitrogen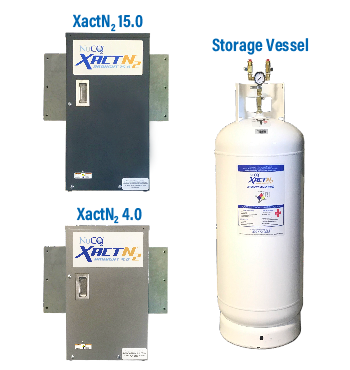 Most Advanced CO2 Safety Monitoring System in The Beverage Industry
Proudly distributed by NuCO2, the LogiCO2 Alert system is a cost effective way to detect and alert your business of potentially dangerous CO2 leaks. The Alert System includes a Central Control Unit, Horn Strobe and can link up to 8 CO2 Sensors. The sensors are pre-set with four alert levels to help ensure a high level of employee safety and compliance with regulations and requirements. This system minimizes CO2 exposure risks for your staff and customers 24/7 and is quickly and easily installed by NuCO2 service technicians.
Benefits of All-In-One LogiCO2 Alert System:
Reliable – Sophisticated self-diagnostics internally monitor for continued correct functionality with fault display if problem is detected
Convenient – Easily installed, simple to operate and scalable in terms of adding additional sensors when required
Economical – Minimize the possible financial loss of product by detecting leaks quickly
Compliant With All US Regulator & Safety Codes:
International Fire Code 2018 Edition
National Fire Protection Association 55 Compressed Gases and Cryogenic Fluids Code 2016 Edition
Compressed Gas Association G-6.5-2013
National Board Inspection Code Part 1 Supplement 3 Revisions 2017
OSHA Compliant